We are the UK distributors of Norav Medical. Norav is the leading company in the fields of PC-ECG and ECG management systems and related non-invasive cardiac devices.
The flexibility offered by Norav's PC-based digital wireless cardiac stress test system is unparalleled. The systems exercise test ECG software meets the specific needs for each user, allowing individuals to control how diagnostic reports are acquired, displayed, measured and printed, according to their particular needs. 
Most standard pre-programmed and user definable testing protocols are offered, accommodating many different treadmills and bicycle ergometers.
1200 W
State of the art Digital Radio Frequency technology, immune to environmental interference, transmits to USBplug-in receiver on PC.
Detachable 10 lead wires conform to AAMI (AHA) or IEC color codes. Every single lead can be replaced independently. Snap or banana types.
Up to 40 hours operation with 4 AA alkaline battery
Trigger for Echo stress, Blood pressure device etc.
Built in defibrillation protection
Belt- Quick Release
Multi system operation in same room (order 1200Wn for second and more. N is sequential number of system)
Complementary Software Package
Runs on PC / Windows environment. Multiple languages operation
12-lead simultaneous recording, display and printout on plain paper.
Filters in real time and offline: 50/60 Hz, EMG (35Hz), Baseline.
Simple interface to patient information systems.
Send E-Mail or FAX directly from ECG screen.
Send ECG as JPG or XML through INTERNET
Physician remarks and signature.
Time base: 12.5, 25, 50, 100 mm/sec. Vertical: 5, 10, 20, 40 mm/mv.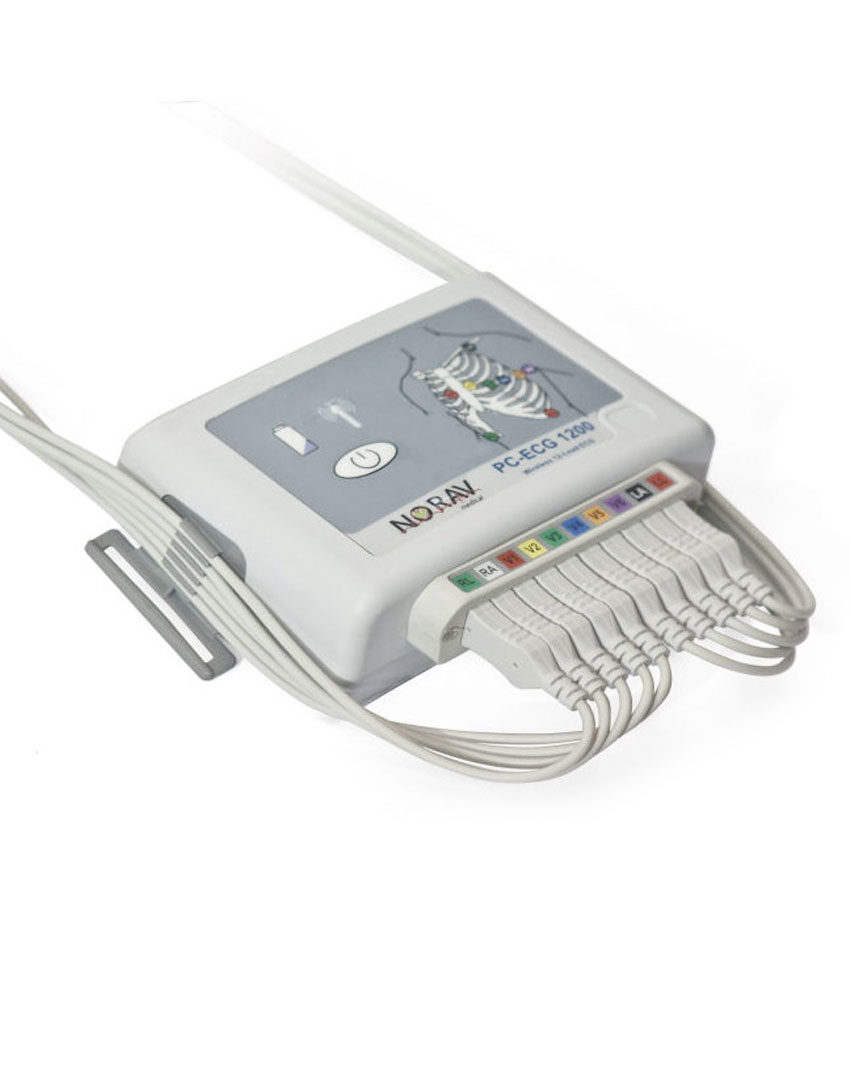 For further information and competitive pricing please contact j.pither@pml.tel or call 01691676496
Additional Software Options
MEANS Interpretation
The MEANS interpretation software incorporates additional functionality including:
Automatic ECG Diagnosis by Erasmus University
Automatic measurements of single or averaged QRS
Caliper measurements of all QRS waves
Expert System with ready to use statements
S2 Stress ECG Software
The S2 software maintains absolute test accuracy by allowing the user to scroll back data during the live test, view the ECG in high resolution and have access to the full disclosure of the entire study. Additionally, the software gives the option for the test to be automatically interpreted enabling for true and reliable diagnosis. Users are able to not just use a variety of stress protocols but can even program their own test protocols into the software, whilst also been able to fully configure live test data and reports to allow for specific parameters to be monitored and viewed, ultimately giving the user complete control for their ECG needs.